Your adventure begins here.
Route 66
Join us for a expertly crafted 13 day Route 66 adventure
Starting in Chicago, you'll travel in a caravan of no more than 15 cars with turn-by-turn directions, suggested photo stops, dozens and dozens of included activities, and a tour guide with years of Route 66 experience.
You bring the car or truck of your choice. We'll do the rest.
New for 2020! Ride-along options! Don't want to drive? No problem. Ride along in our comfortable van!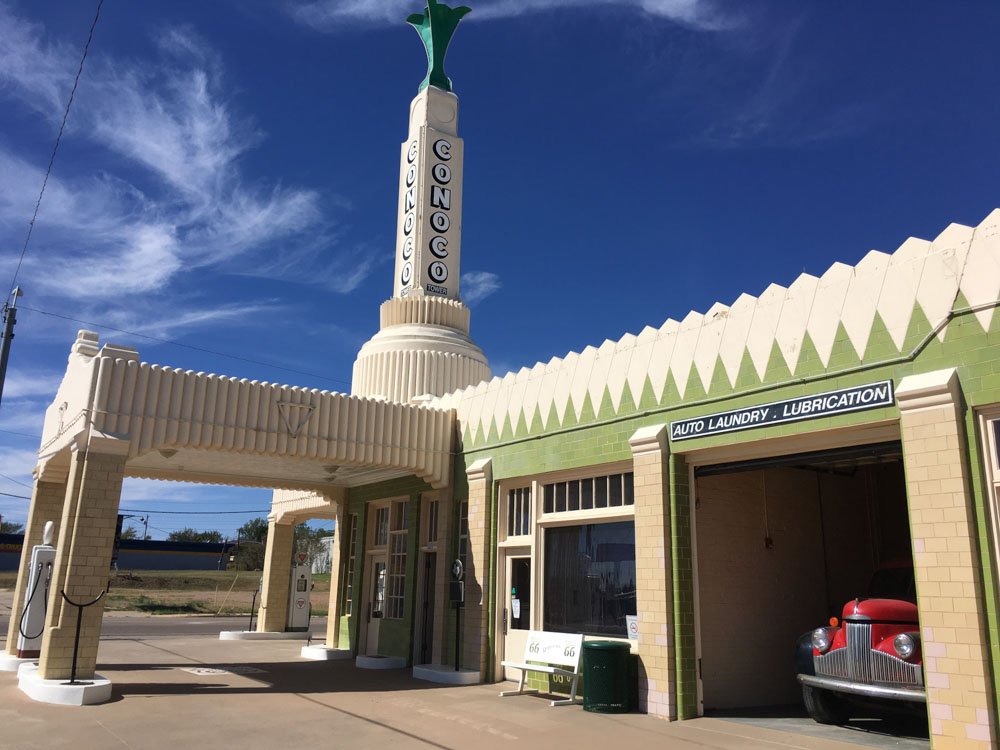 Wait, doesn't this place look familiar? It should... The U-Drop Inn in Shamrock, TX was the inspiration for "Ramone's" in the movie Cars. Today, it's been renovated and welcomes visitors with free coffee and refreshments. You can even sit in a booth Elvis sat in! It's just one of dozens of incredible little stops you'll discover on our Route 66 adventure.
What you'll see along the way:
Several vintage filling stations like the Hackberry General Store, Gary's Sinclair Station, and the Tower Conoco/U-Drop Inn
Historic sites such as Lincoln's Tomb and the National Oklahoma City Memorial
Museums like the Will Rogers Museum, Oklahoma Route 66 Museum, Pontiac Car Museum, and the Route 66 Auto Museum
Natural wonders like Petrified Forest National Park and The Grand Canyon
Roadside attractions such as the Wigwam Motel, the Blue Whale of Catoosa, and the "Standin' on a Corner" Park in Winslow, AZ
Charming towns like Atlanta, IL, Santa Fe, NM, Williams, AZ, and Oatman, AZ
8 states (IL, MO, KS, OK, TX, NM, AZ, CA)
What's included for each participant:
Quality hotel accommodations for 13 nights
Each hotel handpicked, trusted, and at least 3 stars
Souvenir-quality guide book
All museum and park admissions
Digital photo souvenir
Guided tour of Santa Fe, NM
Custom Spotify music playlists for each day
18 Meals
13 breakfasts

2 lunches at authentic Route 66 restaurants

3 dinners
Lead car driven by a Route 66 expert
Trip t-shirt
All parking fees and highway tolls
Whether you ride along or follow in your own vehicle, it's the trip of a lifetime.
Why do a guided Route 66 tour with us?
At over 2,400 miles in length, Route 66 twists and turns its way from Chicago to LA, befuddling your GPS. Add in the complexity of Route 66 actually having MULTIPLE alignments in its history and you get a complicated itinerary.
No wonder there are so many books, maps, and guides out there. Skip the hassle. Don't spend your year planning your vacation. Let us.
We know the "must-see stops" and when you should actually hit the interstate to save time. We know the people you'll want to meet, some even real-life inspirations for famous movie characters. We know the places most people miss. We know the cities along the way. We know the small towns.
It's more fun with friends!
With plenty of included meals, activities, and adventures, you're not stuck in the car with just your co-pilot for 13 days. Instead, you're sharing the experiences with friends whether they be old friends or brand new ones you've made on the trip.
Traveling is more fun with other people. (But, you're still in your own car. It's a perfect balance!)
It's totally stress-free!
Does researching and booking nearly a dozen hotel rooms sound exhausting? Yeah, it is.
From your hotel rooms to all your tickets and admissions, we have it covered. No piecing together everything over the course of several months. Just a few meals and tons of souvenirs... That's all you have to worry about.
Oh, and since you're traveling with a group, we can make this trip INCREDIBLY affordable!
Ok, so how much does this all cost?
We bet less than you imagined.
Book your 13-day Route 66 adventure for as low as $2400 USD per person.
Driving Options:
Solo (1 person, 1 car, 1 room):
$3100 USD
Couple (2 people, 1 car, 1 room):
$2400 USD per person ($4800 total)
Ride-along Options:
Solo: $3800 USD
Couple: $3000 USD per person
None of these fit your party? Email Austin@2laneamerica.com for a custom quote
Car club? Big group of friends?
Just wanting to ride along? Only wanting to do part of the trip?
There are tons of special situations, and we can figure each and every one of 'em out!
Please email us directly at austin@2laneamerica.com for your custom quote.
Available Dates for 2020:
June 6th-18th
June 20th-July 2nd
August 22nd-September 3rd
September 5th-17th
September 19th-October 1st
*All dates subject to change*
Additional dates possible for large groups, custom trips, etc.